News, accomplishments and accolades from the Iona community
---
New Scholarship Strengthens Commitment to Edmund Rice Christian Brothers High Schools
Building on its legacy of opportunity, inclusion and the liberating power of education, Iona is offering a new Christian Brothers Legacy Scholarship that would cut the cost of tuition in half for eligible students.
All graduates of an Edmund Rice Christian Brothers high school who are admitted to Iona as first-time, full-time freshmen will be eligible to receive at least a 50 percent tuition scholarship to Iona, renewable each year upon continuous full-time enrollment at the College.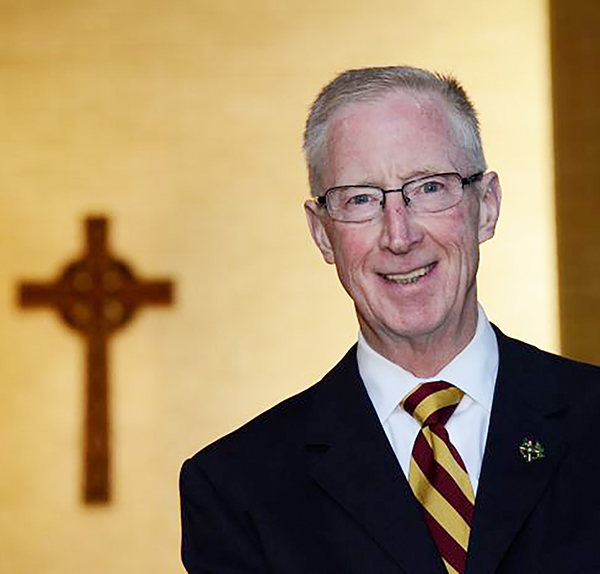 "Our goal in developing this scholarship was to help attract and support the most talented students in coming to Iona while deepening our commitment to the Christian Brothers' mission and strengthening our relationship with Edmund Rice Christian Brothers high schools throughout North America," said Kevin O'Sullivan, senior vice president for Enrollment and Student Affairs. "The new scholarship helps Iona deliver on our foundational promise of providing a transformative education for a great value."
Tom Leto '74, CFC, president, Iona Preparatory School, commented, "For many years, Iona Prep has sent some amazing graduates to Iona College. For me, as an Iona College alumnus, I know the excellent quality of an Edmund Rice Christian Brothers education. Iona College's launching of the Christian Brothers Scholarship will enable more Prep graduates the opportunity to further enhance their education in the Blessed Edmund Rice tradition. The College is making a first-class education affordable for many more graduates of Edmund Rice Christian Brothers schools. They continue to build God's kingdom, one student at a time. God bless the work."
There are 17 Edmund Rice high schools throughout North America today, united in Iona's shared mission of service, faith, justice and opportunity through education.
---
Iona's Provost, Healthcare Hero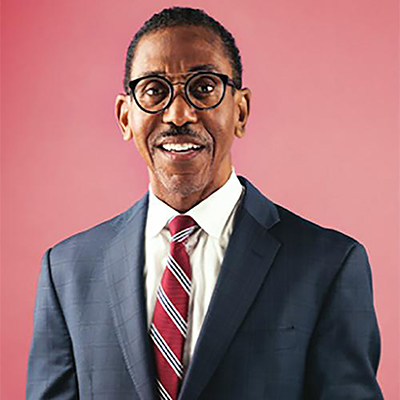 Darrell P. Wheeler, Ph.D., MPH, ACSW, provost and senior vice president for Academic Affairs, has been named a Healthcare Hero by Today Media. He is one of 16 winners featured in the May issue of Westchester Magazine and was celebrated in the virtual ceremony on May 13. Dr. Wheeler led Iona through the COVID pandemic, leveraging his infectious disease expertise. Rita Mabli '74, '76MBA was also recognized for her leadership at United Hebrew.
---
Power 100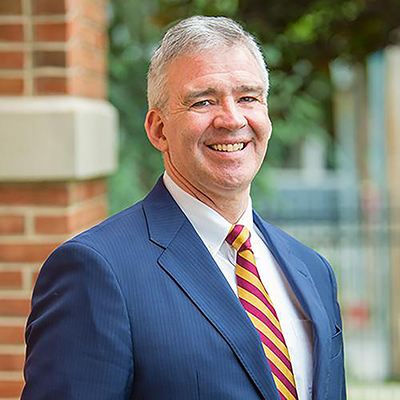 Seamus Carey, Ph.D., has been named to City & State's 2021 Higher Education Power 100, a list of New York's most influential chancellors, presidents and deans of colleges and universities, as well as public officials and philanthropists. Those highlighted in the annual Power 100 are noted not only for their leadership and service within their own institutions but also for their exceptional efforts shown beyond the classroom as they seek to make the state a better place.
---
Iona Celebrates Black History Month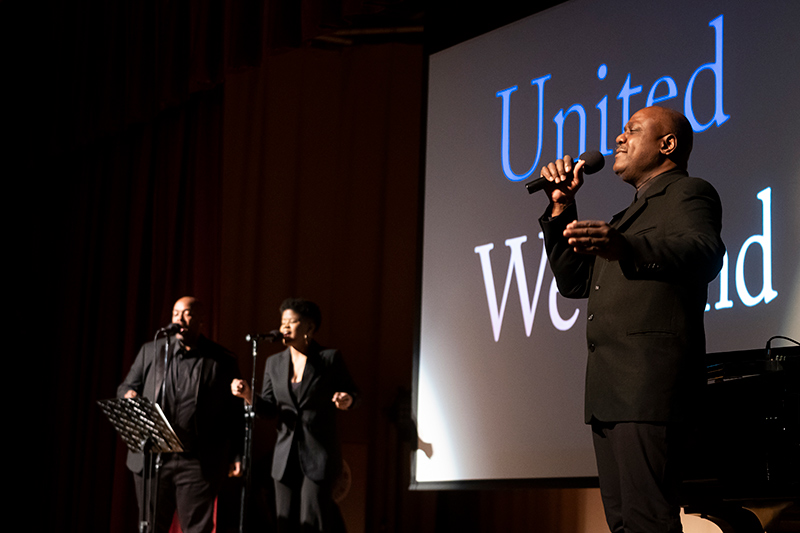 In conjunction with the national celebration, Iona celebrated the achievements of Black Americans and their history with two unique events, Jazz with Key Arts: Unity Through Jazz and Gospel (pictured left), a multimedia performance group, and a presentation by Kevin Powell on When We Free the World: Making the Case for Love, Real Diversity & Inclusion and a New Kind of Leadership.
---
English Professor Christina Carlson Ph.D. Receives National Award for Excellence in Teaching Medieval Studies
The CARA award recognizes outstanding medievalists who have inspired students at the undergraduate or graduate levels or by creating innovative and influential textbooks or other materials for teaching medieval subjects. Carlson shares this award with Geraldine Heng, Ph.D., a professor English and Comparative Literature at the University of Texas at Austin.
---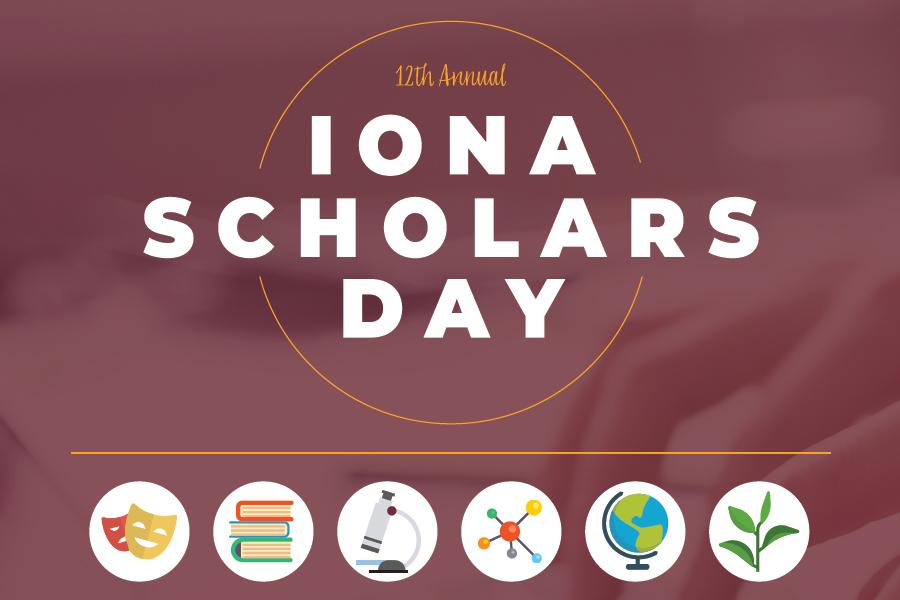 Virtual Scholars Day
Scholars Day is an annual event to celebrate the scholarship and creative activities of Iona students. Students take their lessons and their passions from the classroom and truly showcase what it means to "learn outside the lines." Coordinated by Sunghee Lee, Ph.D., Board of Trustees Endowed Professor of Chemistry, the day-long virtual event showcases faculty-mentored student work and allows students in all disciplines to recognize and appreciate each other's work through oral presentations, panel sessions, performances and poster presentations.
---
Makerspace Launch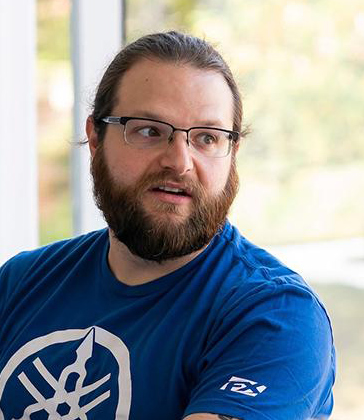 Rob Kissner, founder and president of the Digital Arts Experience, has joined the Hynes Institute for Entrepreneurship & Innovation as its inaugural designer in residence (DIR). As DIR, Kissner will work on creating a dynamic Makerspace Experience at the Hynes Institute, where students can tinker, design, create and build prototypes for new ideas as they strive to solve real-world challenges.
---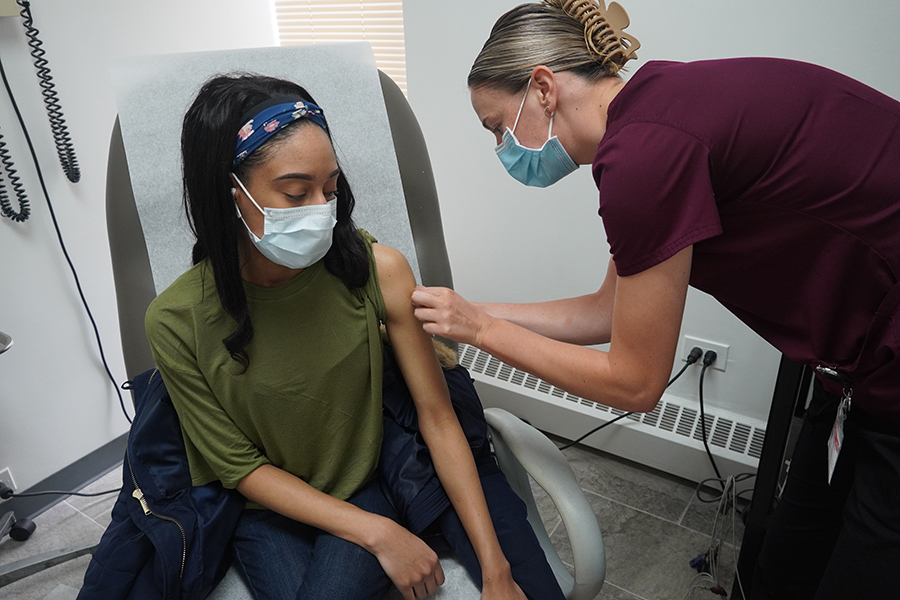 Iona Nursing Students Administer Vaccine
Over 550 individuals from the Iona and New Rochelle communities are now protected against COVID-19 thanks to students in Iona College's nursing program. Describing the opportunity to serve their community as both emotional and historic, students said they were grateful for the hands-on experience gained through the pandemic.
---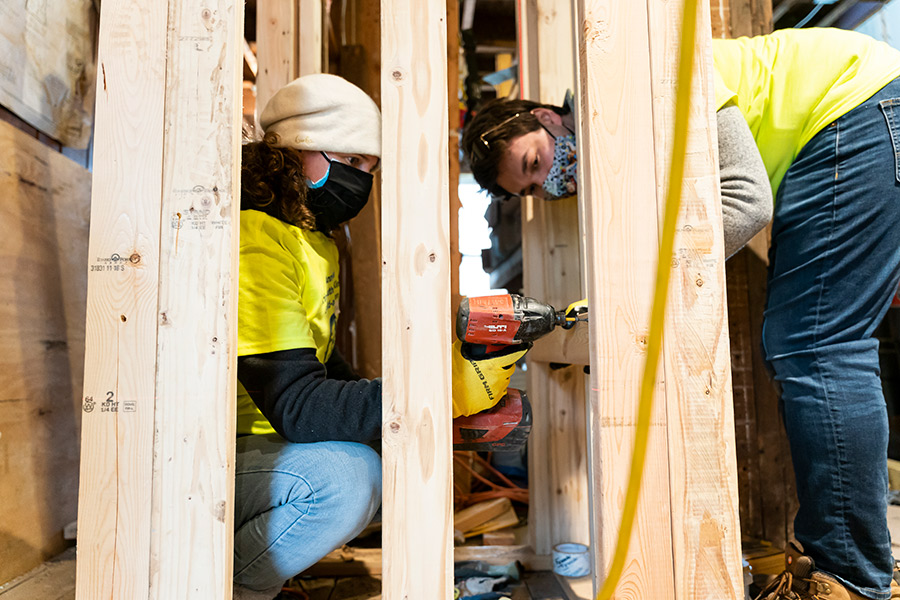 25 Years of Building Homes and Community
Equipped with hard hats and hammers, Iona faculty, staff and nursing students commemorated Martin Luther King Jr. Day by joining with The Fuller Center for Housing of Greater New York City to help build homes for people in need.
Iona volunteers put their skills and compassion to work in the historic neighborhood of Moquette Row in Yonkers, N.Y., where revitalization efforts are underway, including the rehabilitation of homes for seniors and veterans.
---
Student Leaders Recognized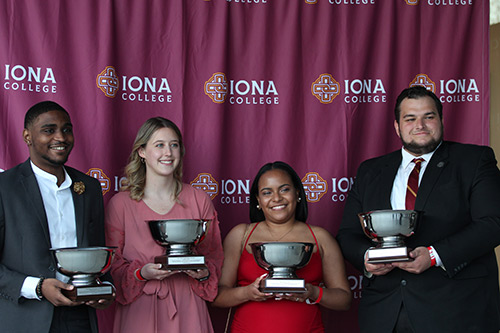 Every year, the Division of Student Life hosts the Gala for Achievement in Excellence and Leadership (GAEL) Awards Ceremony to recognize and celebrate the work and achievements of student leaders at Iona. At this year's event, hosted in the LaPenta School of Business, four students were honored with Commencement Distinction Awards to honor their commitment to the legacy of Iona College. From left to right: Jayson Fox: The Joseph E. Powell Award; Carlie Brainard: The Sullivan Award; Tamia Reyes: The Julia Friedman Memorial Award; and Liam Geer: The Mildred Squires Award.
---
Communication Sciences and Disorders: New Name Reflects Dynamic Growth of Program
Iona's Speech Communication Studies Department is well known for educating students to become compassionate communicators and for providing the local community with critical speech, language and hearing services. The department recently received recognition with the accreditation of its graduate program, and it became time for a name change to better reflect its mission and purpose.
Now called Communication Sciences and Disorders, the department continues to prepare students with rigorous clinical experience, coursework and holistic training and offers a variety of bachelor's and master's degrees as well as a professional certificate program.
---
Iona College Celebrates Top Ten List of National Rankings
Despite the challenges that COVID-19 presented to colleges and universities across the nation, Iona College has much to be proud of in 2020. In addition to being one of the first schools to successfully complete an on-campus living and learning experience this fall, Iona also ranked in prestigious national lists that reflect the quality, value and opportunity provided to students. In particular, Iona continues to stand out for its ability to deliver on the promise of social mobility and return on investment for students.