---
1960s
1961
Patrick J. Connolly '61 was featured in
the Thomas Sanders book, "Vietnam War Portraits, The Faces and Voices."
1963
John L. Darretta, Ph.D., '63 published a book, "Sacred Senses in Sacred Space: A Journey into a Church."
1964
Anthony R. Pasqua '64 was recognized by Continental Who's Who.
1966
George R. Sullivan, CPA, '66, was named Veteran of the Day by the U.S. Department of Veterans Affairs.
1968
Don McLean '68, '01H was interviewed by Fox News Digital.
---
1970s
1970
Anthony J. Czarnecki '70 delivered a presentation on Franklin D. Roosevelt at Cortlandt Town Hall.
1973
Kevin M. Kane '73 earned the California Association for Coordinated Transportation (CALACT) Wall of Excellence Award, given to individuals who have a long and distinguished career in public transportation.
1977
Joseph A. Brady '77 took his final bow as a bagpiper during the St. Patrick's Day Parade in NYC.
Gregory J. Rummo '77, '83MBA published an opinion piece on Gen Z and science.
1978
Sharon L. Preston-Folta '78 revealed that she is the daughter of Louis Armstrong in an article.
Kevin Young '78 announced his new true crime novel, "The Night's Silent Chill."
1979
Robert Greifeld '79, joined CNBC's "The Exchange" to discuss investment plays in single stock ETFs.
---
1980s
1981
Michael Pappagallo '81, became CEO of Chartwell Hotels.
Joseph J. DePaolo '81, CEO of Signature Bank, was featured in Crain's.
Joseph A. Maffia, CPA, '81 ran for N.Y. State Assembly District 75.
1982
Richard J. Franchella Sr. '82 became the national sales manager at Wedbush Securities.
Eileen T. Cahill '82 was appointed to the ElderHouse Board of Directors.
1983
Paul P. Reisman '83 was ordained as a permanent deacon.
Amy M. Peckham '83 founded Etain Health, New York State's only family-run, women-owned, vertically-integrated agribusiness and medical marijuana dispensary chain.
Peter G. Riguardi '83, '16H was honored at the Education Through Music Annual Benefit Gala.
1984
Glenn J. Horine '84, '91MBA is leading a division within the company Underdog Venture Team, where he works to promote diversity in the sports industry.
James P. Agnello '84 participated in a race honoring the hospital that delivered him and his two brothers.
Jane E. Chero '84 was hired by The Media Matters as director of client engagement.
Judith A. Buchholz '84, '90MBA became senior vice president of sales
at Pegasystems.
Carolyn R. Clark '84 was named senior office assistant of the Special Education Department at Rye City School District.
1985
Anthony Hargraves '85 was named Riverside Hawks program director.
1986
Terence M. Comiskey '86, '10MBA became administrator of respiratory and ancillary services for Garnet Health.
Kevin J. Killian '86MBA joined financial company "Newcleus" as a producer.
1987
Eileen A. Ivers-Mulligan '87, '19H and her band will headline "Eileen Ivers: A Joyful Christmas" at The JPT Film & Event Center in December 2022. Eileen also published a book called, "Will Someone Play Bluey?"
Gerard P. Dunlavey '87, '12MBA became Garnet Health's vice president of operations.
Robert J. Darling, USMC, '87 served as a liaison between the Pentagon and Vice President Dick Cheney in the underground bunker at the White House.
1988
Patrick C. Dunican Jr., Esq., '88 was honored with a portrait in a dedicated conference room at Gibbons P.C.
William C. Calderara '88 joined the Hudson Valley Economic Development Corporation Board of Directors.
Lisa M. (Lanzetta) Pomilla '88 became a licensed realtor at Carolina One Real Estate.
1989
Brendan J Dolan '89 became the new chief financial officer at CloudBolt.
James J. Gifas '89 joined First National Bank as director of treasury management.
Craig T. Beazer, Esq., '89 was named to Savoy Magazine's 2022 Most Influential
Black Executives in Corporate America.
---
1990s
1990
Patrick J. O'Sullivan '90MSEd was sworn in as New York State Supreme Court Justice.
Mary C. Fox-Alter '90MSEd was appointed state monitor for the East Ramapo Central School District.
Kathryn L. Freytag '90 was named chief information officer by Ingersoll Rand, Inc.
Louis R. Santini '90 was named general manager of the Delaware Thunder Professional Hockey Club.
C. Anthony Mulrain, Esq., '90 was named co-chair of Holland & Knight Sports and Entertainment Law Practice.
1991
Denis M. Petrilak '91MSEd retired from being superintendent at Chester School.
1992
Timothy J. Bonci '92, '02MS stepped down from the police department after 41 years of service.
John Gilchrist '92 became director of media sales at MSG Networks.
1993
Kyle J. Flood '93 has been named Big 12 Recruiter of the Year by Rivals and 247Sports.
Rose S. Luangisa '93, '96MBA, founder of the Luangisa African Gallery, partnered with ArtsWestchester for a showcase of the gallery's collection of goods.
David M. Dziena '93 became vice president of publishing at Bayard.
1994
Sergio J. Esposito '94 won a seat on the Yorktown Town Board.
Michael A. Baston, JD, Ed.D., '94 became president of Cuyahoga Community College.
1996
Sean P. Powers '96MBA was hired by Gulfside Bank as senior vice president and commercial relationship manager.
1998
Marc P. Baiocco '98 was named superintendent of Clarkstown.
Yasmin Quiles '98 was featured in The New York Times, highlighting her vows and story of her marriage.
Phyllis M. Yezzo '98MS became senior vice president and chief nurse executive at Westchester Medical Center.
Michael T. Mondrone '98 was featured in The New York Times, highlighting
his marriage.
Robert T. Bird III, CFP, '98 joined Sierra Ridge Wealth Management Financial Firm.
---
2000s
2000
Laura Kucera '00MBA was named in the Crain's New York Business Notable 2022 Leaders in Advertising, Marketing & PR.
Marina R. Meltz '00 became a client service associate at Coastal Bridge Advisors.
Angelo J. Amato '00 created a short film called "Coming Home," which made the quarterfinals of the Big Apple Film Festival.
2001
Thomas J. Coppola '01 joined the Westport Country Playhouse Board of Trustees.
2002
Brian J. Baltz '02, '04MBA partnered with McGuireWoods to expand their securities enforcement and litigation team.
2003
Jon McCord '03 became head football coach at Fairview High School.
Michael N. Laprey '03MS was promoted to associate AD for communications at Boston College.
2004
Kwame A. Moses '04MBA was appointed chair of the Liberation Programs, Inc. Board of Directors.
2005
John M. Khinda '05 played the part of Goldor in the outstanding independent film "Donut Kid."
Scott Reinert '05 became the Atlantic Highlands police chief.
2006
Carolyn J. Salazar '06 was named associate vice president for institutional advancement at McDaniel College.
Peter Kollmann '06 contributed to a Golfweek USA Today story about Delaware hosting its first-ever PGA Tour event.
Bryan Auld '06 got married in Scotland.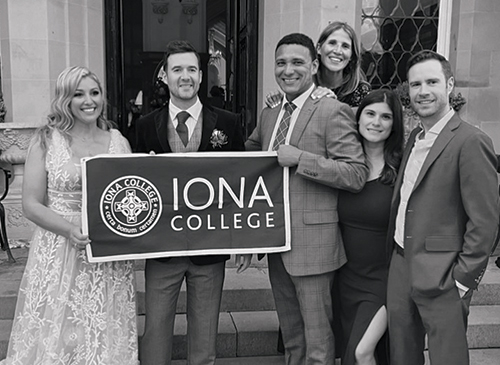 Kiril A. Wachsman '06 competed in the Basketball World Cup Qualifier.
2007
Andrea Fassacesia '07 was named in the 2022 Women to Watch by MM+M (Medical Marketing and Media).
Anthony F. Pili '07MBA was promoted to senior vice president at Orange Bank & Trust.
Scott A. Edelman '07MBA was named interim executive director at Burke Rehabilitation Hospital.
Colleen A. Long '07MA became president of Marco Island Chamber of Commerce.
2008
Gabrielle Gambrell '08, '10MA was featured on PR News Online, discussing the relationship between controversy and publicity.
Robert J. Surovich '08 was promoted to senior vice president at Lakeland Bank.
Casey J. Stanley '08 returned to Arkansas State as an assistant basketball coach.
2009
Marc Zoelle '09MBA joined Lerch Bates as the area general manager.
Lina Carolini-Cannavo '09MST was named principal of Mamaroneck High School.
---
2010s
2010
Jessica Morales Maust '10, '14MBA was promoted to assistant vice president of enrollment management for Marian University.
Steven S. Cardinali '10, '12MBA was recognized by Business Council Westchester's 40 under 40.
2011
Jamie P Pasqualone '11 became vice president, relationship manager for the metro New Jersey/New York region at Provident Financial Services.
Michael R. Margiasso '11, '12MBA joined Magnus Financial Group as an investment operations associate.
2012
James P. Hurley '12 was named the vice president of alumni relations at Rice University.
Leonard E. Korir '12 broke a 38-year record at the 2022 10k Boulder Race.
2014
Sarah E. Lonergan-Rothschild '14 was named to the Wunderkinds 2022 by 914Inc and Westchester Magazine.
2015
Edward J. Browne '15MBA was appointed chief executive officer of Stamford EMS.
Andrew A. Buzzetta '15 joined the Greenwich Police Department.
2016
Spencer Boateng '16 was named head basketball coach at The City College of New York.
Thomas J. Weingarten '16 became head of social media at Overtime.
Julissa Marcano '16 became a school psychologist at Osborn Elementary School.
2017
Thomas McClellan '17 performed a comedy show at Glove Theatre.
Kelsey Gilmore '17 presented her Master of Fine Arts thesis at the Department of Art at Western Connecticut State University.
2019
Bina Roy Baldwin '19MBA was promoted to vice president and general manager of Nexstar's Multicast Networks.
---
2020s
2020
Jack M. O'Leary '20, '21MBA is on the path to full recovery from a back injury and is set to resume racing.
Danielle McGuire '20MA was named school psychologist at Rye Middle School.
Brian Picone '20 became a strength and conditioning coach at GAP2GAP Sports Performance.
Melissa Strauss '20MBA was recognized by Business Council Westchester's 40 under 40.
2021
Carlie N. Brainard '21 is set to run in the Boston Marathon this year.
Jake L. Liberatore '21 is playing baseball at Hofstra while pursuing a graduate degree.
Brendan C. Smith '21MA was signed by the Winnipeg Goldeyes.
Pathea Bruno '21 is furthering her academic research thanks to a grant by the National Institute of Health.
2022
Katherine Meyer '22 was featured in the Times Herald-Record, discussing life after college.
William Junior '22 joined the Rye Fire Department.