On September 12, 2018, with great fanfare, Iona College announced the naming of the School of Business in honor of alumnus Robert V. LaPenta '67, '00H, a renowned business leader, philanthropist and Iona trustee. LaPenta generously made a gift of a $15 million to the Iona Forever comprehensive campaign to support the expansion and renovation of the cur-rent School of Business. He later made a $2.5 million matching challenge gift, increasing his total gift to $17.5 million, the largest philanthropic commitment in institutional history.
"Loyal and true to his alma mater, when Iona College calls, Bob LaPenta picks up the telephone," said Joseph E. Nyre, Ph.D., president of Iona College. "He accepted the invitation in 1999 to join our Board of Trustees to lead and serve Iona College. When Iona needed a new student union, Bob stepped up and said, 'I'll do that.' When Iona needed a trading floor, Bob said, 'I'll help with that, too.' When Iona prioritized a new business school building that will enable us to attract tomorrow's business leaders from around the country, Bob said, 'I will help,' and he said it 17.5 million times. So, it is with deep appreciation and in recognition of his indelible impact on Iona College, that the Iona College Board of Trustees is so very pleased to proclaim that our renowned business school will now officially bear the LaPenta name."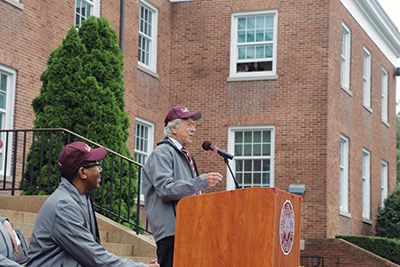 LaPenta has more than 40 years of executive management experience and is currently founding general partner of Aston Capital Partners, a private investment company specializing in military intelligence, homeland security companies and companies involved in green technology. He also serves as chairman and CEO of Revolution Lighting Technologies and The Radiant Group. Prior to these endeavors, Mr. LaPenta founded L-1 Identity Solutions and co-founded L-3 Communications.
LaPenta was the first member of his family to attend college and valued the opportunities a college education would give him. He earned his BBA from the School of Business in 1967. LaPenta said, "My time at Iona College and business degree prepared me well for success and for the ability to positively impact the lives and livelihoods of others. I look forward to seeing future students of Iona College receive a robust business education and grow into the future leaders and entrepreneurs of the world."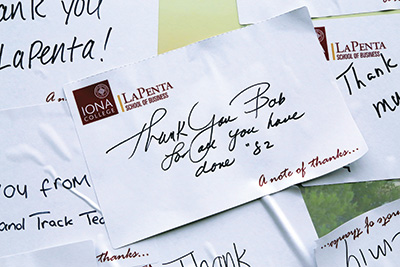 The new physical space will be open to students and fac-ulty from both the School of Business and School of Arts & Science and will provide all who study in it with state-of-the-art learning spaces and best-in-class technology.
William P. Lamb, Ph.D., dean of the LaPenta School of Business said, "Our new business school will enable us to create a much stronger sense of community. Faculty, staff and students will all be working in the same building. There will be event spaces, meeting rooms where students can work with their teammates on class projects, and an atrium that will provide a new crossroads for the campus."
The official groundbreaking of the new School of Business was held on July 26, 2018. The LaPenta School of Business ribbon cutting is being planned for December 2019.