Iona Grows Freshman Class 15 Percent — Again
This year, new freshman enrollment was once again up
15 percent year over year. Over the past three years,
new student enrollment is up over 30 percent despite the headwinds of the pandemic.
Representing 27 states and 11 countries, the Class of 2026 is impressive inside and outside the classroom. The average GPA of our new incoming students was a 3.4 on a 4.0 scale, with an average SAT of 1160. In addition, over 250 students indicated an interest in volunteering during their student experience at Iona.
"The enthusiasm to be a student at Iona University has never been greater, and we are clearly a college on the rise," said Kevin O'Sullivan, senior vice president for Enrollment and Student Affairs.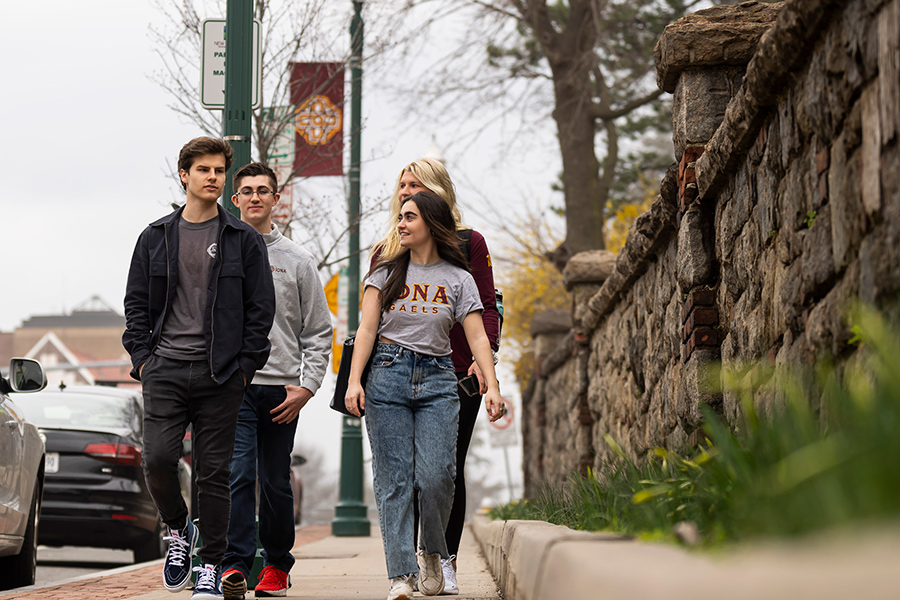 ---
It Pays to Go to Iona
When it comes to a college's long-term return on investment, it's tough to
beat the value of an Iona University education. That's according to Georgetown University's Center on Education and the Workforce (CEW), which ranked Iona in the top 4 percent nationwide in its latest report analyzing 4,500 colleges and universities.
Iona also still ranks #1 among all colleges with main campuses based in Westchester County for delivering the highest ROI both 40 and 30 years after graduation, the time frames that best reflect a college's value, according to the report.
"Iona has a long and proud reputation for producing graduates well prepared for the workforce. Additionally, this report proves that an Iona education will serve graduates well as they grow into leadership roles over the course of their careers," said Iona President Seamus Carey, Ph.D.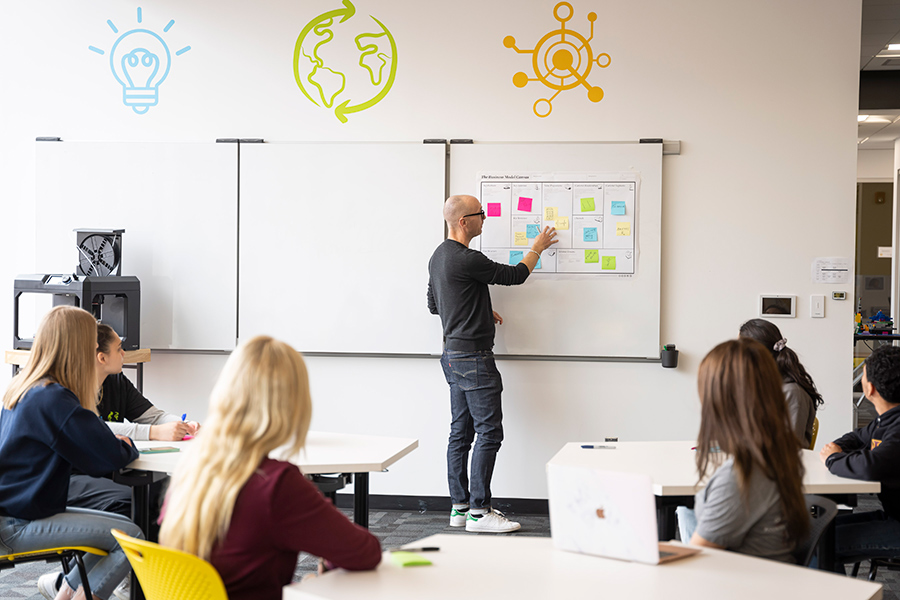 ---
All in the Family
The Estrella family – father, mother, daughter and now son – are now all proud Iona graduates!
Rich and Sue Estrella met at Iona as students, graduating in 1987. They even have a wedding photo together on campus! Their daughter, Carolyn, graduated in 2019. This past May, their son, Nick, walked across the stage as a member of the Class of 2022.
It was such a proud moment for the family that all four brought their framed Iona diplomas to this year's Commencement ceremony. Six other members of their extended family are also Iona graduates.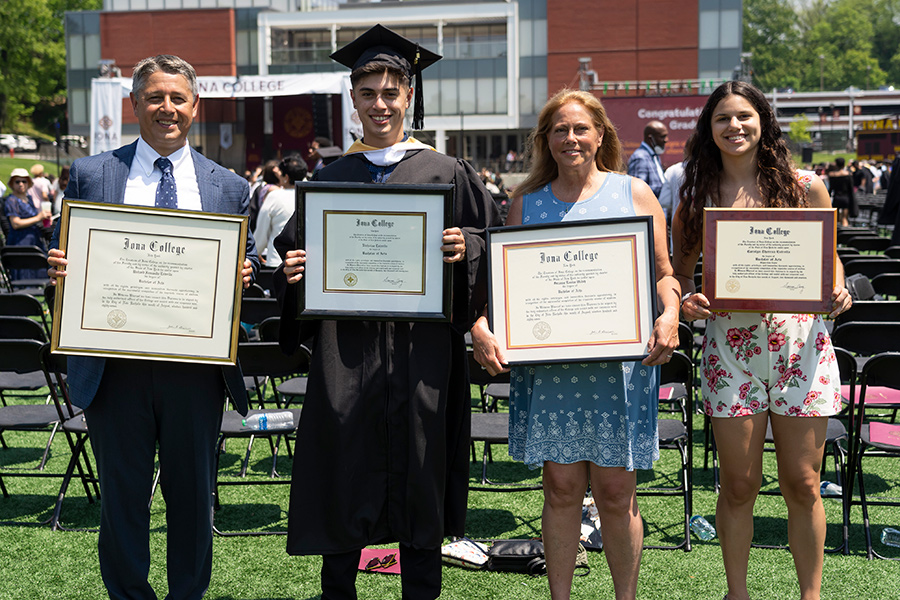 ---
Sparking Change in Mount Vernon
Students from the Hynes Institute for Entrepreneurship & Innovation partnered with the City of Mount Vernon to help MWBEs – minority- and women-owned business enterprises – improve access to government contracts.
After more than two months of fact finding and idea refinement, students presented their proposals to a packed house at the Hynes Institute this past May. One idea was to develop a dedicated micro-site to help improve outcomes for business owners, and one student, Isaiah Williams '23, was awarded an internship to build the site. The Business Council of Westchester facilitated the project and internship.
"You've started something new in Mount Vernon," Mayor Shawyn Patterson-Howard told the students during a presentation at the Hynes Institute.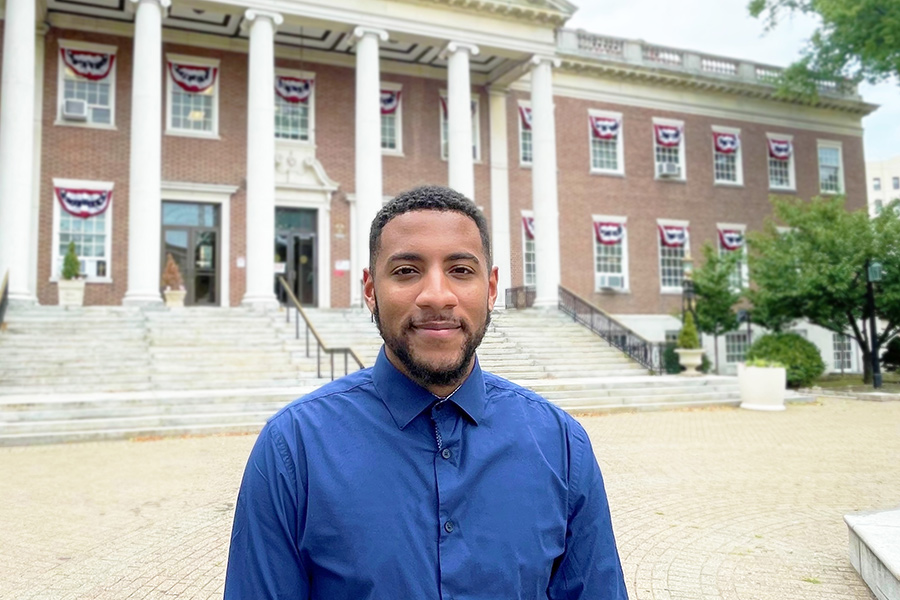 ---
Uffizi Adds Iona Professor's Work
The world-renowned Uffizi Gallery Library in Florence, Italy, has added to its collection an exhibition catalog written by Iona professor Thomas Ruggio entitled Cesare Dandini's Holy Family with the Infant St. John: A Rediscovered Florentine Baroque Masterpiece.
The focus of Ruggio's exhibition was a painting that was considered lost to art history until Ruggio spotted it. News of the discovery went viral around the world.
"It is a tremendous honor to have my exhibition catalog included in the Uffizi Gallery Library. From the time it was founded by the Medici Family in the 16th century, the Uffizi has been a part of Renaissance art history and I am proud to make a tiny contribution to the legendary archives of the Biblioteca Degli Uffizi," said Ruggio.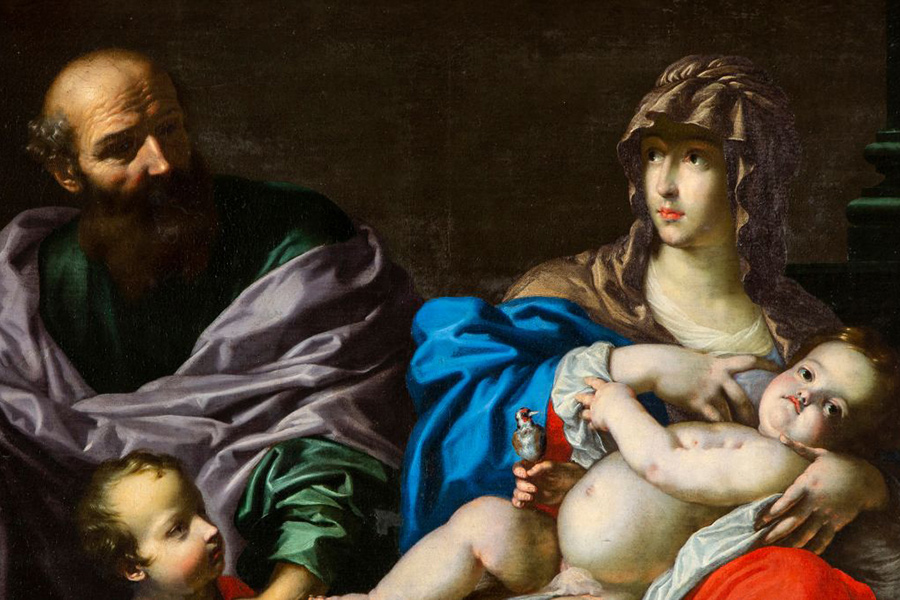 ---
New Team, New MAAC Champs
Iona's new esports team took home the MAAC championship title in Rocket League earlier this year, proving that the Gaels are top contenders on a national stage despite only recently forming. Esports – electronic sports and videogames played virtually – are wildly popular and continue to grow in prestige as colleges and universities compete for the highest stakes.
"We put in countless hours to practice and improve, and it has certainly paid off," said team captain Dylan Zerafa '25, as the team headed into Nationals. "I cannot even begin to describe the emotions we all felt when that final game was over. Excitement, happiness and relief all rushed through my body while I held back tears of joy. It just felt surreal."
---
Iona Professor Honored for Undergraduate Research
The Council on Undergraduate Research (CUR) honored Dr. Sunghee Lee for her commitment to undergraduate research, mentorship and leadership with a prestigious fellowship award.
As the Iona Board of Trustees endowed professor in science and a professor in the Chemistry and Biochemistry Department, Lee founded both Iona Scholars Day and the research group Project Symphony. Lee has also published dozens of publications with over 70 Iona student coauthors and has presented at over 300 conferences with students.
"Dr. Lee consistently goes above and beyond in her dedication to Iona and our students," said President Seamus Carey, Ph.D. "It shows not only in the results that emanate from her lab but also in the passion that her students bring to their work and lives beyond the classroom."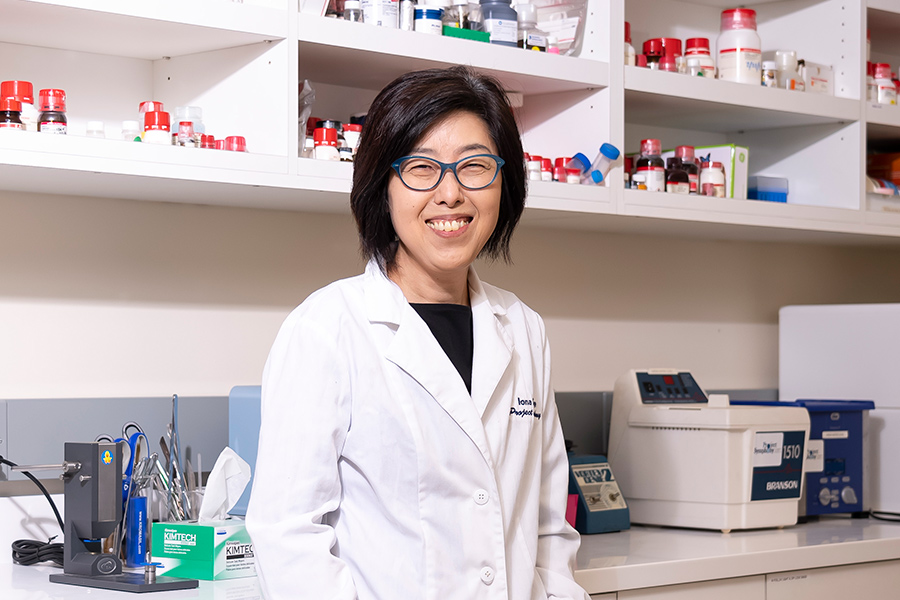 ---
Students "Learn Outside the Lines" on Broadway
Thanks to the generosity of Iona alumnus Christopher O'Connor '89, '92MBA, '94PMC, students received complimentary tickets to enjoy several Broadway shows this past spring.
These included "Thoughts of a Colored Man," the first Broadway show written and directed by a Black man with a Black man in the lead role; and "Come from Away," a musical based on a true story in the week following the September 11 attacks. Gaels also attended "Take Me Out," which follows a star center fielder forced to contend with the challenges of being a gay person of color within the confines of a classic American institution.
"I am happy to provide experiences that will encourage my fellow Gaels to expand beyond their horizons and delve into all that performing arts has to offer," said O'Connor.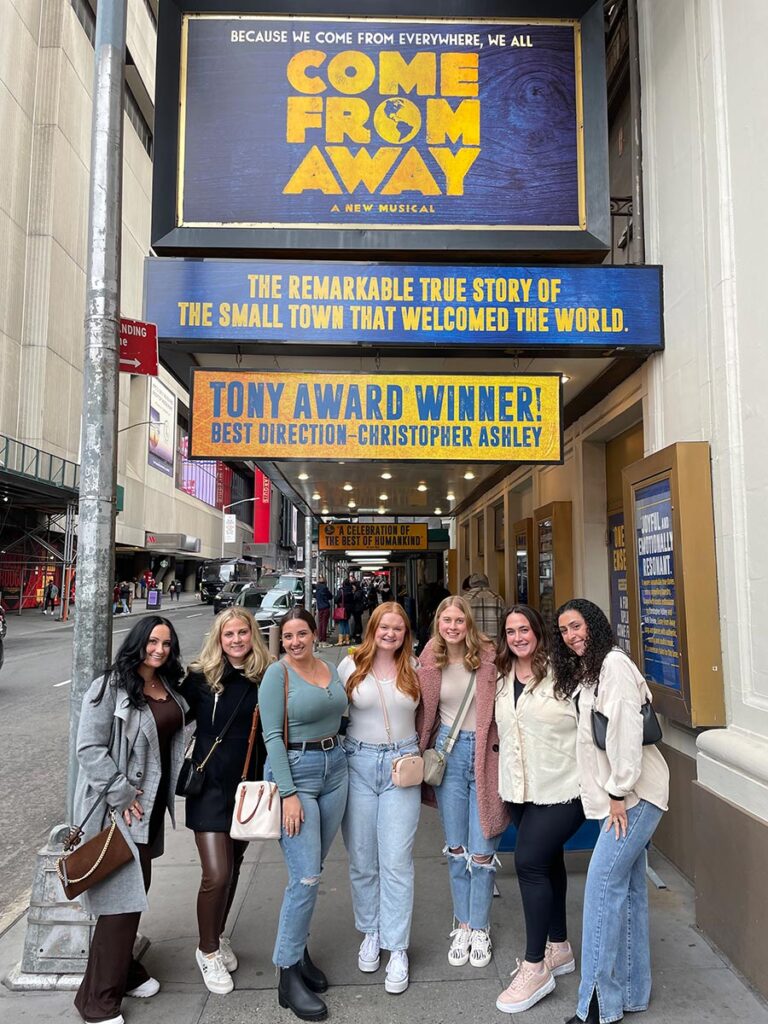 ---
Iona Professor Wins Cannes Film Award
Some stories must be told. One such story – that of an unlikely hero who saved 350,000 people from genocide during the collapse of the Ottoman Empire – was told so impressively by Iona University professor Mike Damergis '89, '06MS, that it won him the Cannes World Film Festival "Best Historical Film Award" in May.
As a monthly winner, the film has automatically been entered into the annual competition for a chance to be screened at the prestigious film festival in Cannes, France, next year.
"Smyrna: Paradise is Burning, The Asa K. Jennings Story" tells how a frail YMCA employee fed, sheltered and led an evacuation of 350,000 people from the port city of Smyrna, which became Ground Zero for one of the greatest human tragedies in 1922.
"I was really amazed to win," said Damergis. "I just thought I would submit it to a few film festivals and see if maybe I'd get some recognition, but I never expected to win Cannes."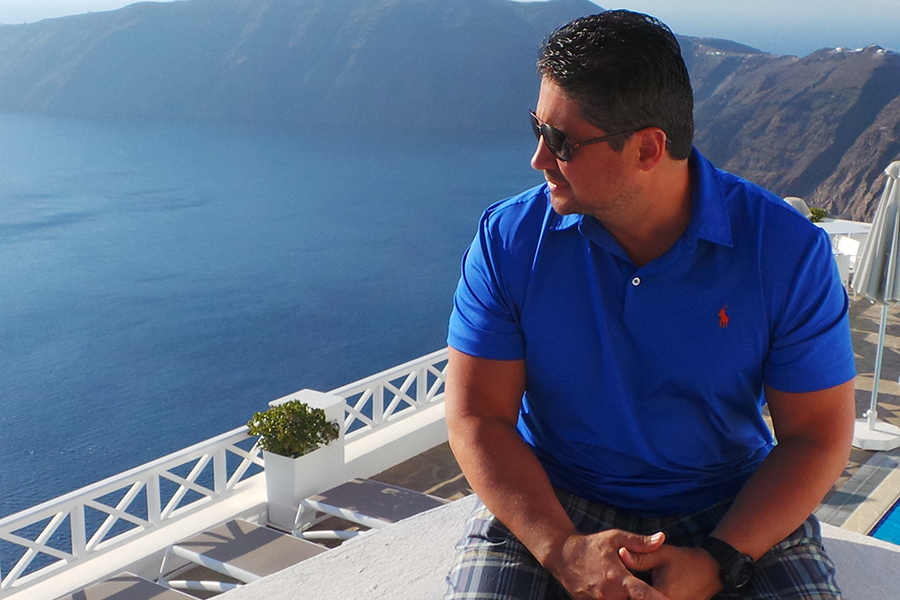 ---
Catholic Higher Ed Visionary Award Goes to Iona Professor
Christina Carlson, Ph.D., associate professor of English and chair of Iona's Catholic Intellectual Tradition committee, was named the 2022 Collegium Visionary Award recipient.
Carlson teaches courses primarily centered on medieval literature, including Celtic spirituality. She is an Honors faculty member and teaches Iona's Columba Cornerstone class for first-year students. This three-credit freshman seminar allows students to explore topics that are critical to the present day, including diversity and sustainability in a digitally and globally connected world, while connecting them to "the Iona story."
To date, she has also twice organized study abroad trips to the Isle of Iona in Scotland and served as a moderator on four Iona in Mission immersions across the country. She also represented Iona at the Edmund Rice Education Beyond Borders Congress in Kolkata, India.
---
Iona Wins Grant to Improve Health Outcomes for Less Fortunate
Iona was honored to receive a continuation of funding from the Mother Cabrini Health Foundation to improve health and human services during a time of unprecedented need.
The foundation awarded Iona a $400,000 grant to support a program designed to prepare students for real-world challenges by training them across various disciplines. This includes the next generation of nurses, educators, speech pathologists, mental health counselors, school psychologists, marriage and family therapists, social workers and occupational therapists – all of whom will have a direct impact on the individuals and communities they are trained to serve.
---
Institute for Earth and Spirit Continues Sacred Work
The Kathleen Deignan, CND Institute for Earth and Spirit continued its important work this year, committed to fostering a peaceful Earth community by offering an array of creative programming to aid and inspire ecological conversion through the lens of religious faith, evolutionary cosmology, environmental science and comprehensive justice.
From a remarkable Thomas Merton Zen photography exhibit in the Br. Kenneth Chapman Gallery presented in collaboration with the International Thomas Merton Society, to a spirituality retreat for Iona employees, to the rich contemplative dialogue circles sponsored monthly by the Thomas Berry Forum and many other virtual offerings in between, the Institute infused a renewed sense of unity, connection and faith throughout the Iona community and beyond to its growing following.
Most recently, during festivities for the liturgical Season of Creation, the
Earth and Spirit Institute made a special gift of contemporary sacred icons
to Iona. Created by the late Father John Battista Giuliani, the son of Italian immigrants who made a vow of solidarity with First Nations Peoples, the icons reveal the dignity, beauty and inherent spirituality of the indigenous peoples of this hemisphere. The paintings will reside in another contributed and curated resource of the Institute to Iona – the Spiritual Masters Atheneum on the third floor of Ryan Library – where they will reside for the University community to enjoy and reflect upon.
"Please linger before these faces. Really see them. Let them see you, bless you and bestow their grace and wisdom on you," said Dr. Kathleen Deignan, CND.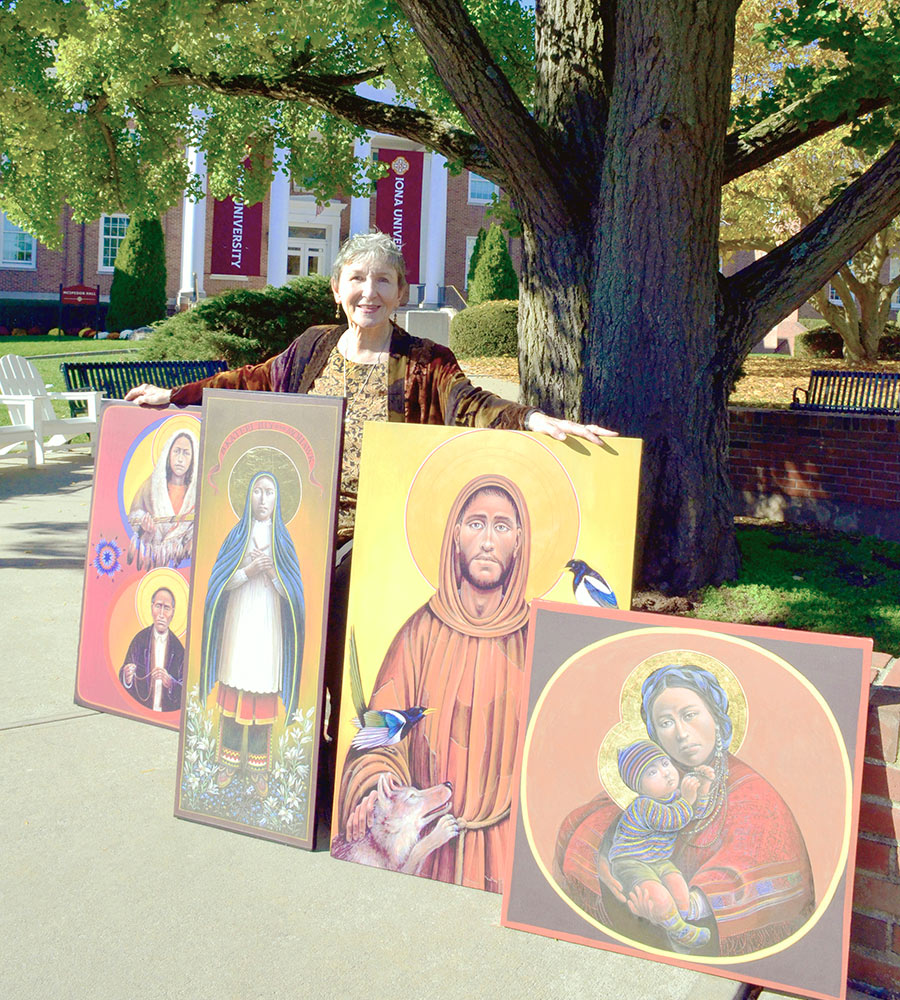 ---
Hynes Institute Celebrates Five Years
The Hynes Institute for Entrepreneurship & Innovation is celebrating five years of helping students develop an entrepreneurial mindset while solving real-world challenges through innovation.
Founded in 2017 with a $15 million gift from James '69, '01H and Anne Marie Hynes, the Hynes Institute is housed in a state-of-the-art space in the heart of Iona's New Rochelle campus. Since its inception, several hundred students have participated annually in the Hynes Institute's programs and co-working spaces, designed to empower students to sharpen their entrepreneurial leadership and creative problem-solving skills.
"In launching the Hynes Institute, Anne Marie and I wanted to help build a space where students would be able to dream, create and lead us into the future," said James Hynes, who also serves as vice chair of the Iona University Board of Trustees.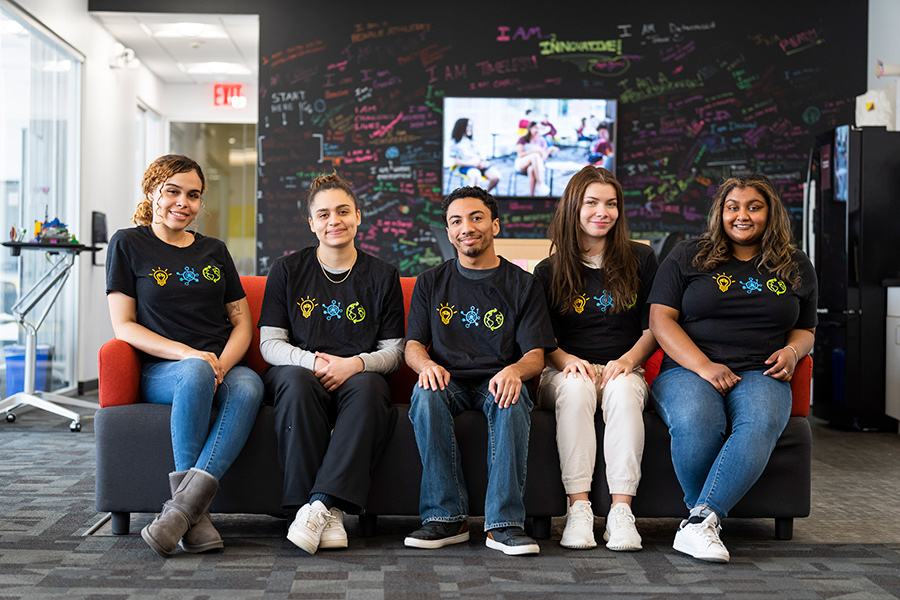 ---
Breaking Barriers in Computer Science
Computer science major Diego Rivera '23 is one of only
10 undergraduate students nationwide to win a $10,000 fellowship from the Last Mile Education Fund, whose goal is to improve diversity in computing-related research.
Rivera's research project this summer focused on virtual reality. He said he chose VR because he finds it fascinating and wants to gain experience in creating educational VR applications for children.
His dream job is to join or start a company creating programs for educational purposes so that children can have fun and learn simultaneously by using VR.
"Computer science allows individuals to feed their imaginations in creating things everyone will enjoy using," said Rivera. "This scholarship helped me and my family a lot, so I'm really grateful to have been chosen."